International Journal of Mathematics and Physics is a refereed journal that publishes experimental and theoretical investigations in Mathematics, Physical Technology and Physics.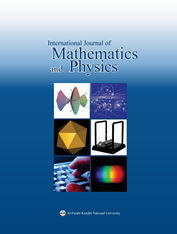 Объявления
Aim and Scope

One of the main aims of the Journal is to promote extensive exchange of information between scientists from all over the world.
Опубликовано: 2014-10-07
Далее...
Том 7, № 1 (2016): International Journal Of Mathematics And Physics
Содержание
Informatics and Mathematical Modeling
Nuclear Physics and Nanotechnology
| | |
| --- | --- |
| Investigation of interaction processes of 3He with 14N nuclei аt 50 and 60 mev | PDF (English) |
| N. Burtebayev, D.K. Alimov, I. Boztosun, Z. Kerimkulov, M. Nassurlla, Y.S. Mukhamejanov, A.V. Yushkov, S.K. Sakhiev, D.M. Janseitov, A.N. Bahtibayev, A. Pattaev, Sh. Hamada | |
| | |
| --- | --- |
| Scattering of 13C ions by 12C nuclei at energies close to the Coulomb barrier | PDF (English) |
| N. Burtebayev, J.T. Burtebayeva, A. Duisebayev, T. Zholdybayev, M. Nassurlla, C. Spitaleri, S.B. Sakuta, E. Piasecki, K. Rusek, A. Trzcińska, M. Wolińska-Cichocka, S.V. Artemov | |
Physics of Condensed Matter
Theoretical Physics and Plasma Physics